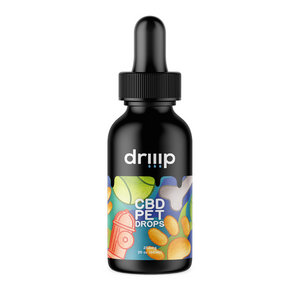 Regular price
$69.95
Sale price
$100.00
Help your furry friends relax and be pain free with our Pet Drops.
Reduce anxiety
Reduce Pain
Promote restful sleep
Decrease nausea
Anti-inflammatory
Directions: Add Pure Pet CBD to food or place directly in mouth. See below for dosing.
Strength: 250mg | 4mg CBD/ml
Dosing: 
0-25lbs: 2 droppers (2ml)
25-75lbs: 4 droppers (4ml)
75+lbs: 6 droppers (6ml)
Ingredients: Organic hemp seed oil, organic olive oil, full spectrum hemp extract.
Frequently Asked
HOW QUICKLY CAN YOU ANSWER MY QUESTION?
We answer messages and emails in the order they are received and we try to respond as promptly as possible. We mostly reply within 24 hours of receiving a message or email.
HOW LONG IS THE PROCESSING PERIOD?
Order processing times are between 1~3 business days after the day you placed your order. Most packages are prepared within 24 hours, but if our warehouse is exceptionally backed up processing times may go up to 3 business days following the day you placed your order.
GENERAL SHIPPING INFORMATION
Our warehouse processes and ships out all orders Mondays-Fridays (excluding major holidays). After placing your order, your package should be shipped out within 1~2 business days after your order is placed.
WILL MY ORDER COME IN ONE PACKAGE?
Yes. If you order 3 or more, you'll receive a slightly larger Teal package. If you order 2 or less, you'll receive a slightly smaller Teal package.
OUT OF STOCK/BACKORDERED ITEMS
In the event that any of your items are out of stock, we will send you an email to let you know when we expect to have the items shipped out by. If the items are not expected to be restocked within 2 weeks, we will just automatically refund you for those items.
ADDRESS CHANGES
Our warehouse staffs are super quick, so if you notice an error please email us ASAP with your name and order number so we can try to catch your package before it departs. There's no guarantee we can change it, especially once it leaves our warehouse, but we'll do everything we can!
DO YOU SHIP INTERNATIONALLY?
Not at the moment. We ship to all 50 United States.
I RECEIVED A DAMAGED ITEM, WHAT DO I DO?
We apologize that your shipment didn't arrive in perfect condition! Please contact us with your name and order number for further assistance.
If you have any concerns, please contact us.
Shipping & Delivery
Each order will be processed in 1-2 days & shipped out to your door in 2-3 days.
Most orders will be delivered in just 2 days from when the order is placed.

We ship with USPS & will update your order with tracking 1-2 days after your order is placed.

Enjoy,
The Driiip Team
Reviews